Thinning hair, receding hair line and hair loss often causes lots of distress at any age in a female's life. Hair thinning in women is just as common as in men but without the extreme form in baldness.
Thinning hair for a woman can represent a loss of femininity. Receding hairline in women otherwise known as frontal fibrosing alopecia is a condition where a woman's hair line recedes in some extreme cases for up to 5 inches. It mostly, affects women around the scalp, forming a band like pattern of hair loss. 
The average scalp is covered with 100,000 hair follicles. No new follicles are formed after birth. Most people lose between 50–100 hairs a day—but a consistent loss of 150 or more hairs a day is considered a significant hair loss. 
 Hair loss that is caused by medication, stress, lack of protein or iron, or hair care may be prevented. Avoiding certain medicines, reducing stress, getting adequate protein and iron in your diet, and having hair styles that don't damage your hair (known in the trade as a chemical hair cut) may reduce or prevent hair loss.
Below are just 10 of the numerous reasons that your hair may be thinning. If you are experiencing hair loss, you seek medical advice. 
1. Polycystic Ovarian Syndrome (PCOS)
This is an endocrine disorder where women typically have high levels of androgen (male) hormones. Androgen affects the menstrual cycle, can cause oily hair, acne and facial hair growth, and can occur in young women, as well as mature aged. If you think that this could be the cause of your hair loss, you should get a blood test, organise an ultra sound and seek professional, medical advice.
2. The Pill 
The main hormones used in the pill are Estrogen and Progestin or both, and these may affect hair growth. If you are on the pill, and are concerned about your hair loss, you should get a blood test and seek professional advice.
3. Pregnancy
Hair is usually great in pregnancy with increased oil production in the body. Despite this, figures show that 50% of Caucasian woman will experience hair loss after giving birth. The best option for you is to have a blood test and seek medical advice.
4. Menopause
Major hormone changes can occur before, during or after your body is in full Menopause. These changes almost always affect hair growth, resulting in thinning
hair. If you are experiencing hair loss, in any stage of Menopause, you should get a blood test, and seek professional advice, as well as looking after yourself and maintaining a healthy diet.
5. Hysterectomy
Hormone imbalance can occur after removal of the womb. If you are suffering from this, you should contact a medical professional and arrange to have a blood test.
6. Overworking your hair by chemicals or styling
Often referred to as a chemical hair cut in the hairdressing trade! You have yourself to blame for this common issue- hair can be fragile. Maybe you have used too many chemicals that are found in bleaches and lightening type colouring. Perming, straightening, keratin treatments as well as some shampoos, aggressive brushing, back-combing, swimming pool water, air pollution and too much UV exposure can cause this. To help solve this issue, you should use a protein treatment, be gentle with your hair, avoid putting chemicals through the mid-lengths and ends of your hair and wait for it to grow back. Look after your hair!
7. Androgenetic Alopecia
Hormone imbalance where too much male hormone androgen like DHT is present in body. Can be caused by hereditary factors. Medical advice should be sought, and a blood test arranged.
8. Alopecia Areata (areas of baldness in patches) 
An inflammatory reaction is behind Alopecia Areata. A person's own immune system attacks the roots of hair follicles. In most cases a stressful situation has occurred which may still affect the hair six weeks to three months after the stressful incident. Your body is reacting to stresses that your mind does not recognise. About 70% of people recover their hair within two years, whether or not they receive treatment. Natural therapies can really help, such as relaxation and meditation techniques, yoga and acupuncture.
9. Telogen Effluvium
For some women, Telogen Effluvium is a mysterious chronic disorder and can persist for months or even years without any true understanding of the triggering factors or stressors. It is a condition in which your body's immune system attacks itself. Nothing can be done for the problem, although a wig may be a cosmetic solution. If you suffer from this condition, relaxation and meditation techniques, yoga and acupuncture may be goos options to help your body recover.
10. Traction Alopecia
Trauma to the hair follicles from tight hairstyles that pull at the hair over time including braiding, cornrows, tight ponytails, and extensions. To solve this issue, you should allow your hair time to recover, by wearing looser hairstyles and stop pulling your hair too tightly. Further, you should stop hanging hair extensions onto your hair because the extra weight may be damaging your hair. The hair follicle may recover and grow back. If you are experiencing this, use a crayon, spray or eye shadow to minimise shining of the scalp.
For more expert advice like this, from a hairdressing and personal styling background, head to Amazon and grab your copy of The Real Woman's Guide to Hair, today!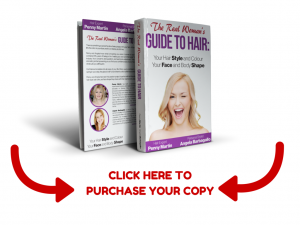 There is something so powerful about being happy with your hair – it frames your face, it lifts the colour on your face, and it is on display at all times.
Hair Expert, Penny Martin and Fashion Stylist, Angela Barbagallo share 50 years of experience in the hair and fashion industry. They know what is troubling you when it comes to your hair and your style. Your concerns and questions are heard and understood.
This book is about educating and empowering you so that your confidence about your hair and your body shape flourishes.
Penny and Angela have put this passion project together filled with great insights about your hair colour, your hair style, your face shape and your body shape. They are truly honoured that you're taking the time to read the fruits of their labour of love and passion.
Penny Martin
Penny Martin has built a reputation as the most experienced, reliable and respected hair design specialist in Sydney. She provides a personalised, enjoyable experience ensuring you look and feel amazing and this comes through in her writing experience. Penny has over 20 years experience as a senior Train the Trainer for future hairdressers. Penny's love for people has led her to open a counseling practice. She has had the honour to work with many underprivileged groups helping them create a second chance in life during their rehabilitation process. Penny is passionate about empowering others and making life fun.
Angela Barbagallo
Angela Barbagallo is one of the brightest minds in personal styling and confidence coaching today. Angela has educated her clients in making great style choices, which translates into increased feelings of well-being and a positive attitude in life. Angela is a body shape and colour expert and Author of the book "8 Ways to Look Fabulous, Taller and Slimmer by Dressing the Best for Your Body Shape