Your Pear body shape is the body shape category that the majority of women fall into.
For the best looking outfit your focus needs to be on balancing your hips area with the upper body.
Accentuating your slimmer waist with the right size, length and style of top, jacket or dress will give your look the definition it deserves.
Pear Body Shape Style Recommendations
Great Tops For Pear Body Shape
Necklines like v-neck, cowl neck, turtle, square neck, boat neck and round neck are all great choices for your Pear shape.
Cross over top styles usually flop open due to the smaller bust size and a v-neck will instantly create a better look.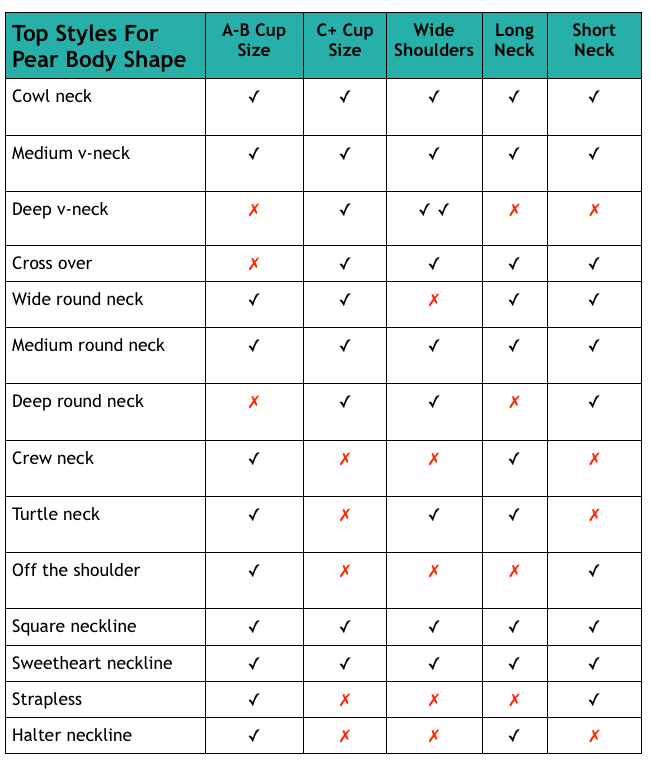 Great Skirts and Dresses for Pear Body Shape 
Soft a-line, stiff a-line, straight or high waisted skirts are all great fits. The material on the slimmer fitting skirts needs have some stretch in the material to fit nicely over your hips.
Just above your knee or just below your knee are great finish lines. Mid calf length looks great if you are above average in height and your calf size is slim to medium.
Great Pants for Pear Body Shape
You will need to try on quite a few pairs to find the perfect fit. The rise of your pants looks best at 23cm and above.
The material needs to have some flow to it to be able to accentuate the slimmer parts of your legs as you walk.
Depending on the width of your hips you are best to find a dress pair of pants that falls straight from the hips.    
Jeans styles need to be mid to high rise and straight or slim fit with stretch in the material will make you look better than bootleg or skinny jeans.
Side opening pockets or heavy embellishments are best avoided. And the same counts for bright coloured stitching. This will create attention to the heavier part of your body and make you appear bigger.
You will look the slimmest if you wear darker on the bottom and light in the tops, giving the eye an instant focus on your upper body.
Great Jackets for Pear Body Shape
Tailoring is what you need to look for in the perfect jacket to accentuate your slimmer upper body. A nice fit in the shoulders as well as a great length and waist definition is a great basis for a jacket.
Great Underwear for Pear Body Shape
The right seamless underwear will make a difference how nice a slimmer fitting dress, skirt or pants looks. A great pair of shape wear from mid thigh to under the bust will even out all the curves for those special occasion dresses.
Your Top 5 Pear Body Shape Wardrobe Must-Haves
A great pair of pants or jeans.

A jacket that will work on a dress, jeans, skirt and pants.

A fantastic belt to cinch your waist.

A nice collection of scarves that inspire you.

Accessories to help you bring the attention to your upper body.
Post Baby Confidence
When Pear body shape, Rosemary Shapiro-Liu had her child at 46 her body changed dramatically. She had been a dancer for many years but post-baby her body changed to a more maternal, hourglass figure.
"My job requires to speak in front of large audiences, so I need to feel confident and comfortable with how my new body looks" says the author and coach.
"Angela gave me some fantastic guidance. She taught me that small tweaks can have a big impact on the way you look.
Shopping Up A Storm
Karen Burke, a Pear body shape, now knows exactly what styles suit her.
For 50 year old, Karen Burke, shopping did not come naturally. Knowing she needed help, she invested a lot time into working together with Angela Barbagallo.
Karen is a Principal of a Wollongong High School and she likes to dress immaculately from head to toe. Her style is elegant and time-less with a touch of chic.
"I used to loathe clothes shopping. I could never find anything that fitted me properly. Now I am buying and wearing clothes I'd never have looked at before," says Karen. 
This busy mum-of-two created a wardrobe she loves by organising firstly what worked and what was missing. When she adds new items to her wardrobe they are always a 10 out of 10.
More Rectangle Body Shape Tips by Style Angel